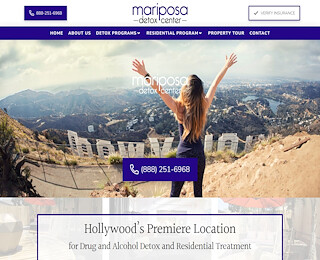 Addiction is able to make you feel isolated and alone with no hope in sight. But regardless of how severe your addiction is, you can find the help you need in a Los Angeles drug rehab and nearby alcohol rehabs to overcome your substance use disorder and live a healthy, sober, and fulfilling life.
At Mariposa Detox Center, we're a premier Los Angeles drug rehab that helps people with a substance use disorder get off alcohol or drugs and stay off them. Our treatment facility provides a relaxing and conducive environment with addiction treatment specialists who are truly invested in your long-term recovery. Whether you are at the initial stages of recovery or about to complete your rehab program, our mission is to make sure you succeed at all levels.
4 Signs That Your Loved One Needs Professional Addiction Treatment in a Los Angeles California Alcohol and Drug Rehab
There are different tell-tale signs that can let you know someone close to you needs substance abuse treatment at an inpatient drug rehab center or outpatient drug rehab in Los Angeles, California:
Lying
Being deceptive is one way of detecting that someone close to you has a drug or alcohol addiction. In an attempt to hide their substance use disorder, they will be absent from important events and social occasions and give flimsy excuses of their whereabouts. They'll even go as far as putting alcohol in unmarked bottles so that it isn't easily identified.
Money Problems
Sudden and unexplained financial troubles could be a sign that your loved one needs addiction treatment. If someone close to you constantly begins to borrow money from friends and family yet has more unpaid bills and increasing debt levels, they might be spending all that money supporting their addiction.
Alienating Themselves and Mood Changes
If a loved one prefers to isolate themselves quite frequently, this is a sign that they want their privacy to consume alcohol or drugs while protecting their substance use. And if you have noticed mood swings and irrational behavior in someone you love, people with an addiction often switch from being elated, happy, depressed, hostile, and angry without warning.
Appearance
The appearance of a person with substance use disorder deteriorates at some point. An individual addicted to alcohol or drugs has one mission every day: to acquire and use drugs or alcohol. As such, they tend to neglect how they look. They may appear worn out and tired most of the time. Women will usually try to hide this with a lot of makeup. That said, most people abusing alcohol or drugs will go to great lengths to hide their addiction. Therefore, a haggard or declining appearance may not be obvious until their substance abuse is quite advanced.
We'll Help You Break the Cycle of Addiction
At our Los Angeles drug rehab, our mission is to assist those who are struggling with a substance use disorder to lead a productive, healthy, happy, and sober life. We're able to achieve this through a range of treatment therapies delivered by our licensed medical and clinical experts. Our individualized addiction treatment center programs enable our rehab facility to provide second to none care to all our guests. Contact Mariposa Detox Center and take the first step toward your new life: 888-251-6968.
Mariposa Detox Center
888-251-6968
832 N Mariposa Ave
Los Angeles CA 90029 US